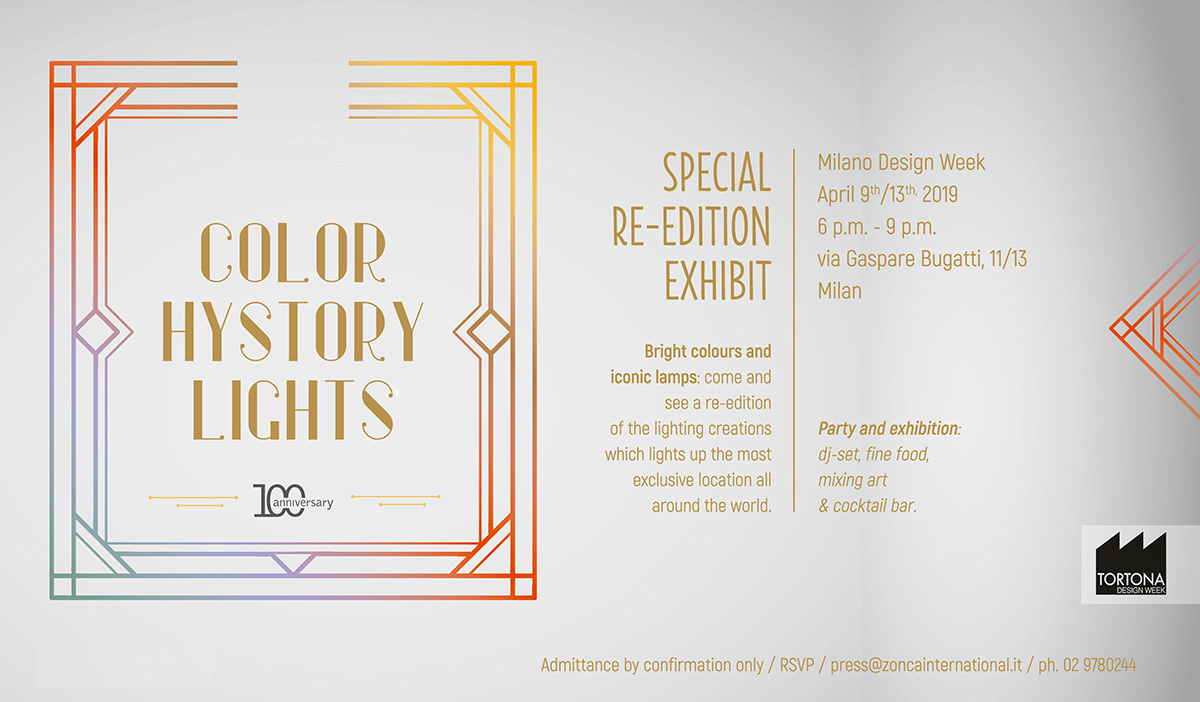 Six days, 1373 events, 17 themed itineraries: from April 9th to 13th, Milan opens the gates in a crescendo of success to Fuorisalone, the week which has been matching the international Salone del Mobile for 15 years.
The event, more than any other, catches and gives the beauty of furniture and design made by the most dynamic and young Italian and international companies.
This is the exciting setting where Zonca Lighting celebrates 100 years of its historical brand of Italian lighting design.
The showroom in the heart of Tortona District (via Gaspare Bugatti, 11/13), focus of DesignWeek 2019, frames a hundred years long story, told through a setting up which highlights passion, commitment, quality of ideas and intuitions. These are the same elements that nowadays are Zonca Lighting's new assets. In facts, the company is linked with the most renowned designers all over the world and it deals with major contract projects for hotels, resorts, hotel chains and high-profile homes.
"Color History Lights" is the special exhibit setting up Zonca Lighting's showroom with iconic lamps, those become a classic. For Fuorisalone, they wear a new light: bright colours, original materials and fabrics, unusual chromatic matches… a way to go back under the light of new trends. This mixture of past and future takes the guest into the Zonca Lighting's universe thanks to an immersive experience.
Core of the exhibition is a massive chandelier, lighting up the showroom with coral hues for a visual contrasting mood, thus showing the link between yesterday's emotions and prospects of tomorrow.
The showroom is also location for meetings and workshops during DesignWeek 2019: Zonca Lighting rallies different designers, intellectuals, artists and innovators, marking the path among debates, installations, talks and experiences. The aim is to strengthen its role as a leading company in the lighting industry, as well as turning into an innovation focused design community with an eye to luxury and research.
Several occasions on schedule: Tuesday 9th at 5 p.m. Zonca Lighting hosts 4BI et Associés, with Bruno Moinard and Claire Betaille, designers well known all over the world for their unique way of interpreting design, that is "surprising and ignoring trends; creating from nothing in order to keep a timeless and sharp style ".
Wednesday 10th and Thursday 11th drinks and chats with the designers who now set the trends and draw the modern living habits.
Friday 12th at 7 p.m., Laleh Amir Assefi is expected at the showroom to talk about its poetic and charming lamps, inspired by calligraphy. And the evening goes on with the partnership of Dreamlux: from 8.30 p.m. dresses made of light illuminate the showroom!
Open all evenings from 6 p.m. to 9 p.m. with DJ-set, buffet and cocktail bar.
Zonca Lighting | Showroom: via Gaspare Bugatti 11/13 | Milano
Special opening hours for DesignWeek (April 9th-13th): from 9 a.m. to 9 p.m..