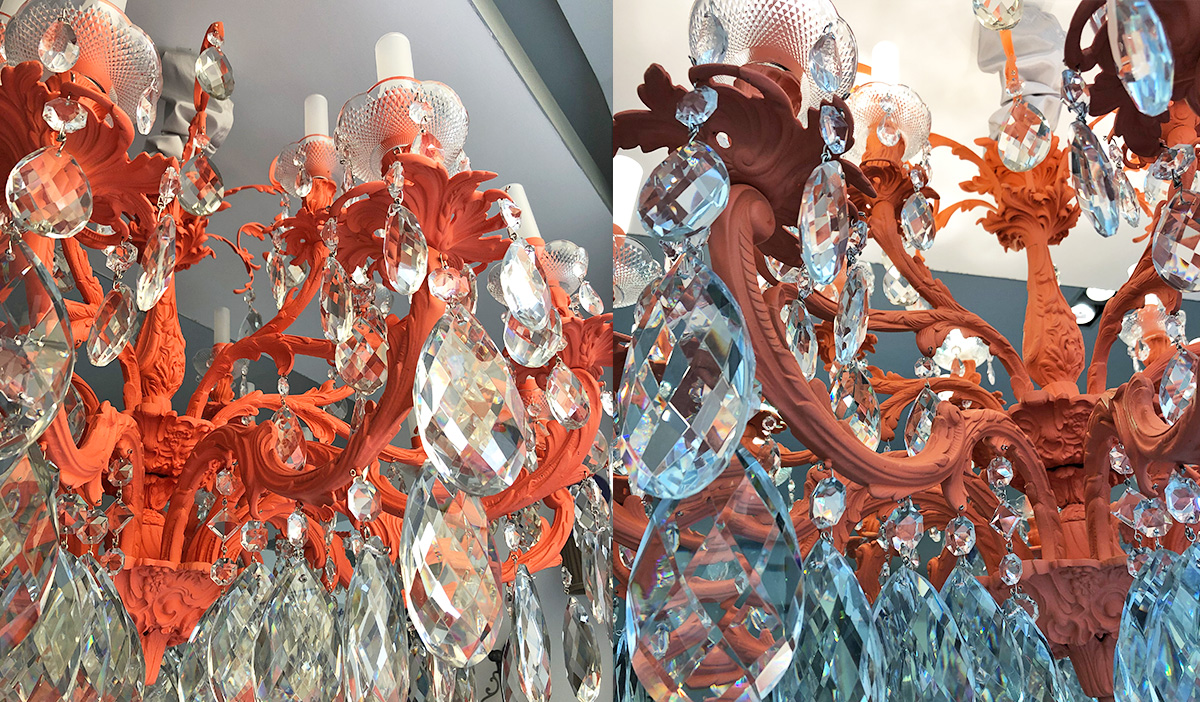 Over a century of history and experimentation on shapes and materials could only be interpreted with a rush towards the future through the eyes of the past. Thus was the "Bijoux de Corail" created, a unique piece in the Zonca History collection which inaugurates a new creative process in Zonca Lighting.
"Bijoux de Corail" is an elegant original ceiling lamp that the Zonca descendants wanted to rediscover, restore and reinterpret to then exhibit at the FuoriSalone as a symbol of the past to be enhanced through the latest trends.
With care and passion, skilled artisan hands took charge of this family jewel, a ceiling lamp from the 1960s in cast bronze and Bohemia cut glass cups. It was stripped, restored and then re-painted in Living Coral 16-1546 tones in homage to the Pantone colour of 2019. The bulbs, originally candle-shaped, were replaced with incandescent LED ones, creating a perfect harmony of the current and the past – even in terms of the application of technology.
The result is an exclusive, unique piece that inaugurates a new trend at Zonca Lighting, that of drawing from the treasures of private collections to rediscover icons of a bygone age that, today, is more than ever, highly fashionable. And so, that is how Zonca History came about, the workshop that will allow vintage lamps from the 1960s, 1970s and 1980s to be customised and to present them in a new light.
Playing on contrasts, then, this is a retro object that can break the monotony of a minimalist environment and give it warmth, whilst maintaining the main characteristics of the primary style. Vintage pendant lamps, floor lamps, chandeliers, ceiling lamps and light bulbs can transform a modern setting into a comfortable, welcoming environment. Thus the design from one period, characterised by refined taste, is made contemporary by inserts and modern declinations in a style evolution that maintains a strong iconic mark.
Zonca Lighting has found a way, then, to stop time, capturing the uniqueness in the details of the most beautiful expressive seasons.