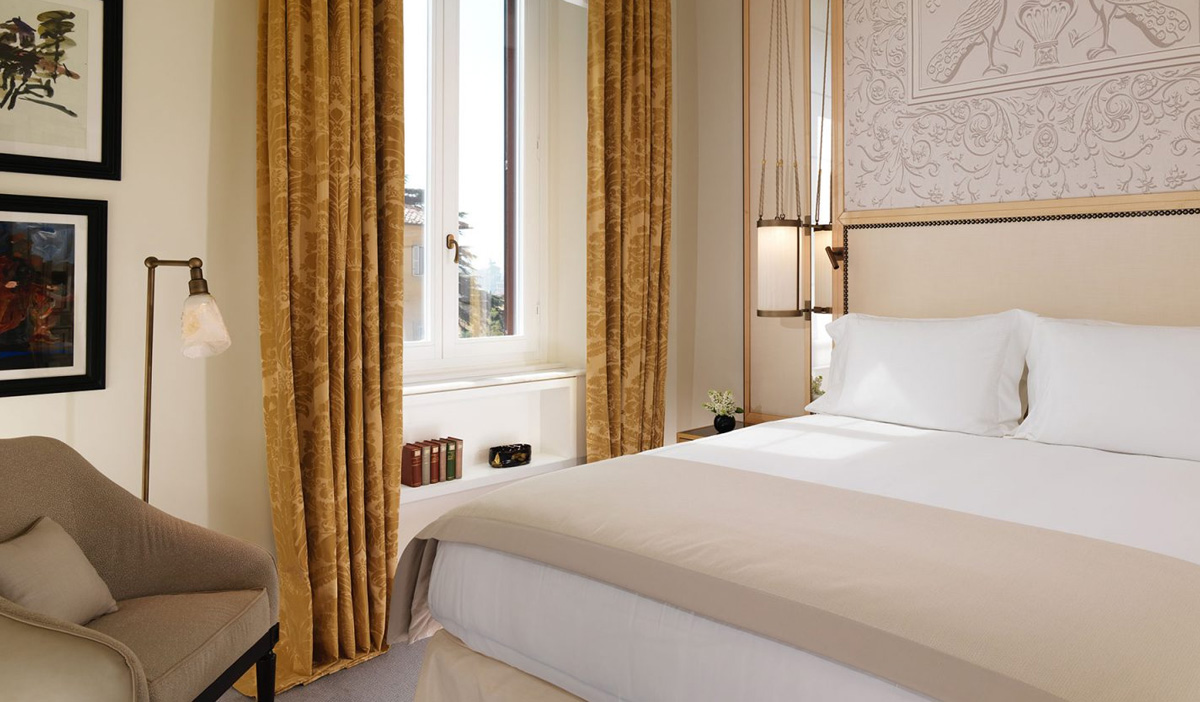 Hotel Eden a Roma, the top in luxury hospitality in the Eternal city, re-opened after 17 months of careful internal and external restoration work.
Located in an enviable position, between Piazza di Spagna, Villa Borghese and Via Veneto, Hotel Eden dates back to 1889, and has been frequented by royals, diplomats and celebrities ever since its inauguration. The images show Princess Maria di Borbone in a wedding dress on her wedding day as she leaves along with Prince John of Asturias. The gold book also contains signatures of King Alfonso XIII of Spain, Umberto di Savoia and the entire family of Princess Galitzine.
And it was here, during the Dolce Vita period, that Federico Fellini loved to give international interviews, surrounded by a spectacular view of the centre of Rome.

For obvious reasons, the setting goes beyond a five star rating and the meticulous restyling, by French architect Bruno Moinard, has focused on the "Italianness" of spaces and colours. Zonca Lighting, which took care of the luxury rooms lighting, designed a particular atmosphere that recreates an ancient aura while combining it with contemporary tastes.

The interiors are made with white Pakistan marbles worked by craftsmen from Carrara, fabric wallpaper and Murano glass, all expressed in gold, black and grey with touches of red and green, using only exclusive materials. The lobby includes a library, with a secret bar, and an antique fireplace, while the top floor, with its stunning view over Rome, houses La Terrazza restaurant and offers creations by starred chef Fabio Ciervo.

The hotel focuses on extra luxury rooms which, after the renovation work, have increased from 13 to 39 suites. In total, the rooms have gone from 101 to 98 as a result of their increase in size.
Worth highlighting are the suites, among which the Penthouse Suite Bellavista: accessible via a private elevator, it combines modern elegance with the 1930s and 40s style. It consists of a study, a living room, a dining room and a luxury double bedroom with access to a marble bathroom.
A timeless suggestion that exudes the creativity of some of its illustrious guests, Louis Vuitton e Bulgari.