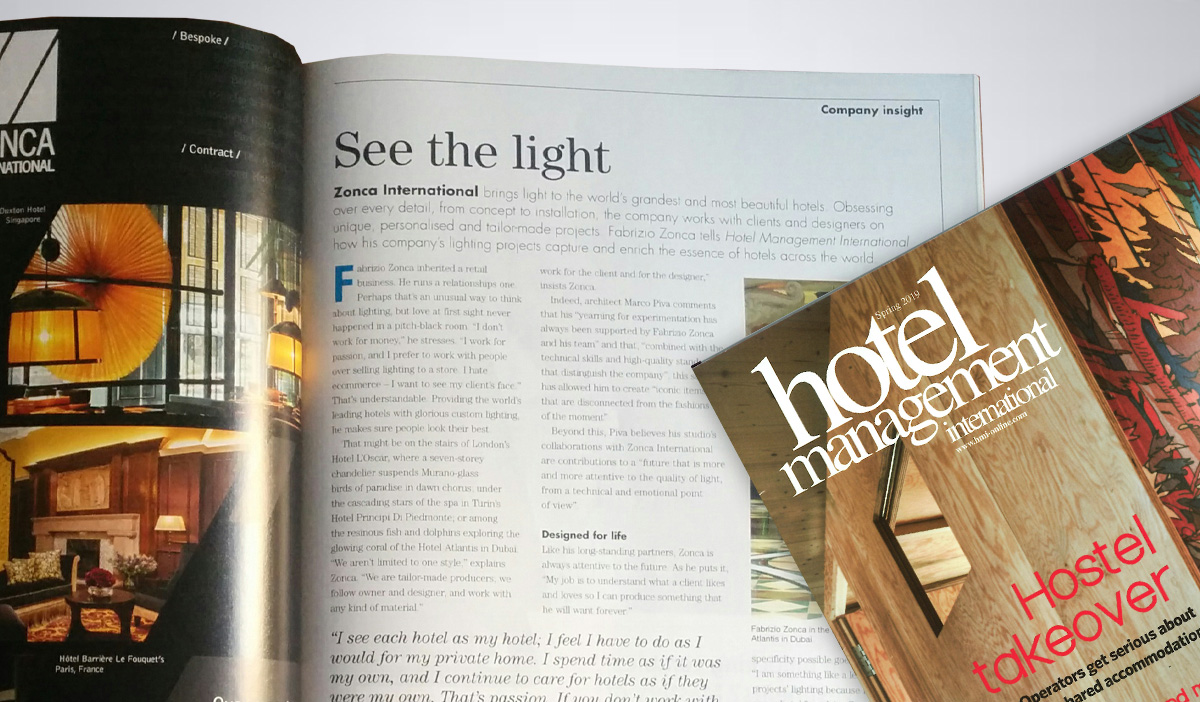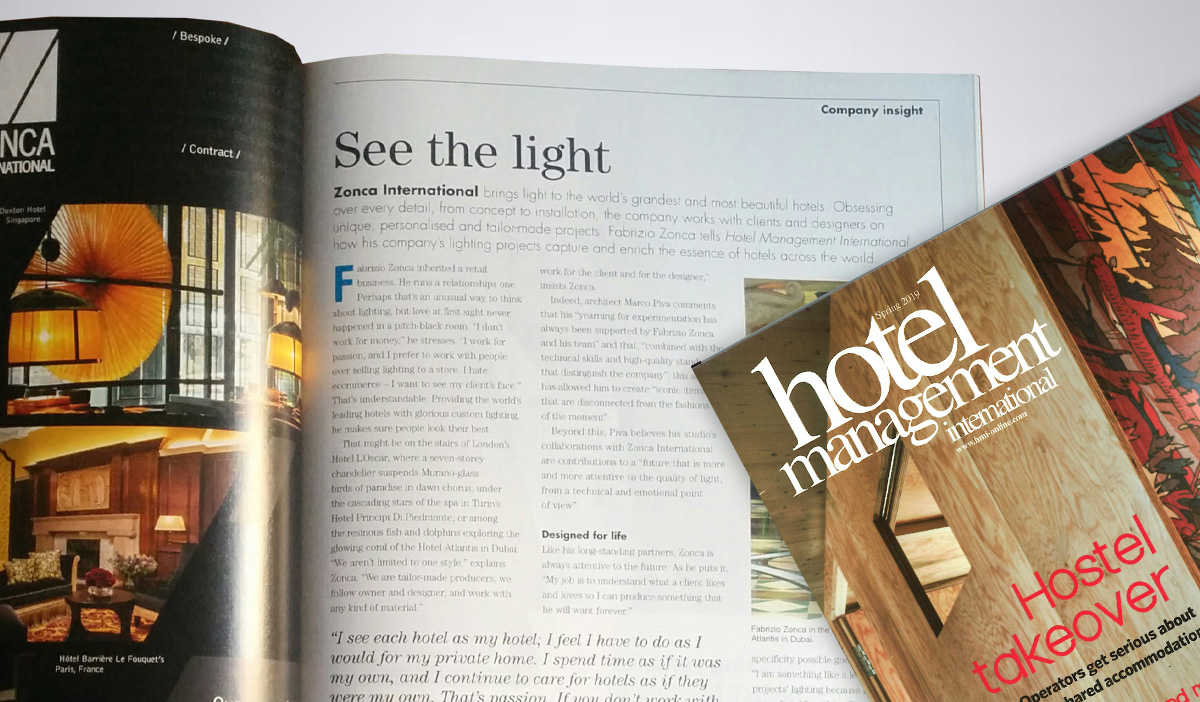 In the era of global sharing, it's a message that might seem to be going against the flow: "I hate e-commerce: I want to see my clients in the flesh". This is how Fabrizio Zonca began his interview with the specialist magazine, Hotel Management International.
It's not a quip but a way of cultivating the attitude for detail and relationships with customers that Zonca Lighting has been handing down for over a century. The attention to the smallest details, the search for materials, the care in every design aspect cannot be reconciled with the frenzy of compulsive purchasing, but rather with the pleasure of following the passion for beauty and for artistic creation.
"It's understandable", writes the English magazine, "since Zonca supplies the world's most prestigious hotels with glorious, customised lighting, ensuring the hotels show themselves at their very best".
From the Oscar Hotel in London, to the Principe di Piemonte in Turin to the Hotel Atlantis in Dubai, the latest spectacular achievements have captured the media's attention which has already documented the renowned collaborations between the Italian brand and famous, internationally acclaimed designers.
"We don't just follow a certain style",explains Fabrizio Zonca. "We follow the owner and the designer in their projects and we work with any type of material. Whatever they want to create, we have the experience and the specialist know-know to make it happen".
And that is how some of the most beautiful hotel interiors in the world took shape from the ideas of Jacques Garcia, Anouska Hempel and Celeste Dell'Anna.
Like its long-term partners, Zonca is always looking to the future. "Our task is to understand, truly understand, what our customer likes and then to make something that he or she will always want".
A method confirmed by the architect, Marco Piva, who chose to collaborate with Zonca Lighting for "their technical ability and the superior standards of quality, which allowed us to create iconic elements disconnected from the fashions of the moment".
Working closely with hotels and designers, Zonca Lighting makes lights that unequivocally capture, and contribute to, the atmosphere and identity of any environment.
"When we work in a hotel," explains Fabrizio Zonca once more, "we do not simply see it as a customer; it becomes something that belongs to use, something to take care of, as if it were our home".
"I love it when we make a fantastic light and show the first prototype to the client", he says in concluding the interview with Hotel Management International. "I like to see their initial reaction. Then, perhaps, we might change something and we'll work to get the greatest results possible. Only when I see a happy customer and a pleased designer, can I start to feel satisfied and pleased too".
And this is true passion; that unique and particular spirit that distinguishes Made in Italy and that has made Zonca Lighting one of today's most sought-after lighting brands.