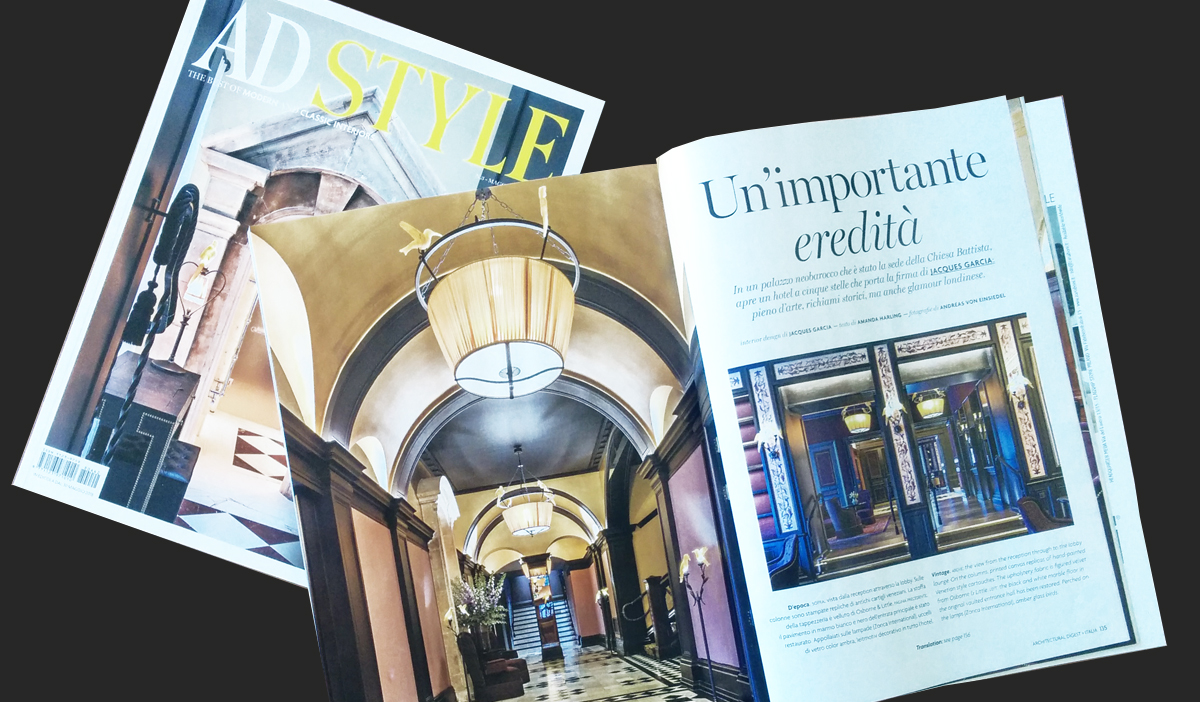 Zonca Lighting is on the cover of the latest issue of AD Style (May 2018), the magazine dedicated to lifestyle, luxury homes, and new living trends.
The focus is dedicated to the inauguration of L'Oscar, the boutique hotel opened in May in the heart of London, a 5-star hotel set in a former Baptist church in the Holborn district.
The recovery project was directed by the great Parisian interior designer Jacques Garcia who, once again, chose Zonca Lighting to develop the design creativity for the lighting of the environments.
The result is a crepuscular atmosphere that pervades the 39 rooms and the common spaces among art, historical references, and London glamour, inspired by the writer Oscar Wilde to whom the hotel is dedicated in name and style.
The decorative leitmotif, the one that characterizes and distinguishes L'Oscar from any other hotel, is the presence of about 500 amber birds delicately perched on lamps and ceiling lights made by Zonca Lighting and customized on the exclusive design of Garcia.
The most iconic and spectacular is certainly the chandelier that runs from top to bottom all the seven floors of the building with an endless series of hummingbirds, parrots, and cuckoos composing a spectacular spiral.
The original Baroque architecture has provided many cues to which Jacques Garcia added "layers of art, patterns, colour, and texture to create an opulent and chic atmosphere," the French design master explains in the large article of AD Style, "a truly unique experience, where everything, in the end, is perfectly amalgamated."
And this is the secret of timeless elegance.