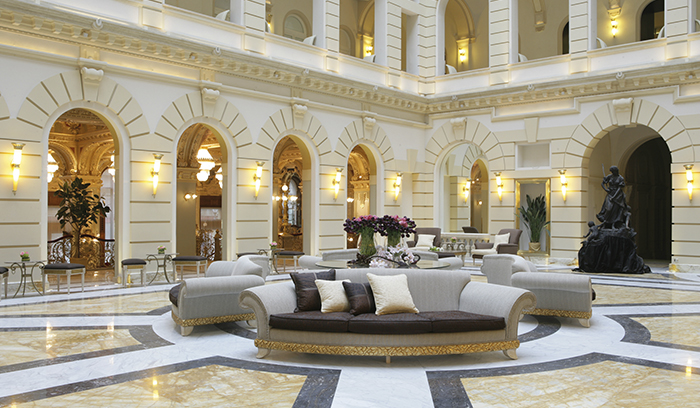 The Boscolo New York Palace Hotel is one of most luxurious hotels in the Hungarian capital. It was opened in 2007 after extensive restoration works that took over 5 years to complete and returned the New York Palace to its former magnificent splendour, which is the original building.
The management of the restoration project, led by the architect Maurizio Papiri, paid particular attention to maintaining the original eclectic style. Maximum comfort alongside elegant and refined interior architecture, with no shortage of marble, bronze, brocades and ancient frescoes, all harmoniously combined with crystal and steel, materials typical of modern design, in the search for originality and perfection.
The entrance, in particular, is an architectural masterpiece, a symbol of the crossroads of different periods and styles: the light that irradiates from the walls is "Torcia", the designer lamp that Papiri conceived in collaboration with Zonca Lighting to confer a refined stamp of elegance upon this hotel, a must for those in search of excellence.
The Zonca Lighting style is also recognisable in the Spa, where soft lighting enhances an environment that takes inspiration from the natural elements of water, rock and wind: the surfaces and colours help to create an incredibly suggestive atmosphere.