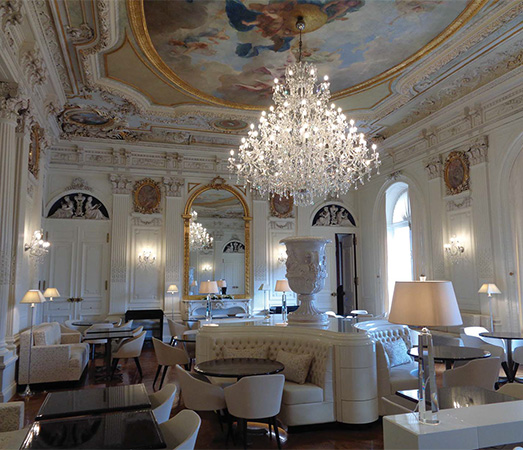 "Fiore" is one of the great classics of the Zonca Lighting collection. The famous architect Pierre-Yves Rochon has chosen this timeless chandelier to furnish, in an original and suggestive manner, the Lounge of the Château de Ferrières; an extraordinary location for ceremonies and events in Ferrieres en Brie, France.
Built in the nineteenth century by the French side of the Rothschild family, through Italian and English inspiration, Château de Ferrières is one of the jewels of the country's architectural heritage.
The Lounge is one of the castle's enchanting settings; flooded with light, it lends itself well to organizing an aperitif or an after meal drink. Pierre-Yves Rochon amiably decorated, with contrasting tones of white and blue, the Rothschild family's old billiard room.
For the occasion, "Fiore", a transparent glass chandelier with chrome finish, was created in bright blue, acquiring an aristocratic elegance that can be considered… out of the ordinary.
Once again Zonca Lighting has shown meticulous attention to detail, with the innate ability to make any environment exclusive, by studying and re-elaborating its details.