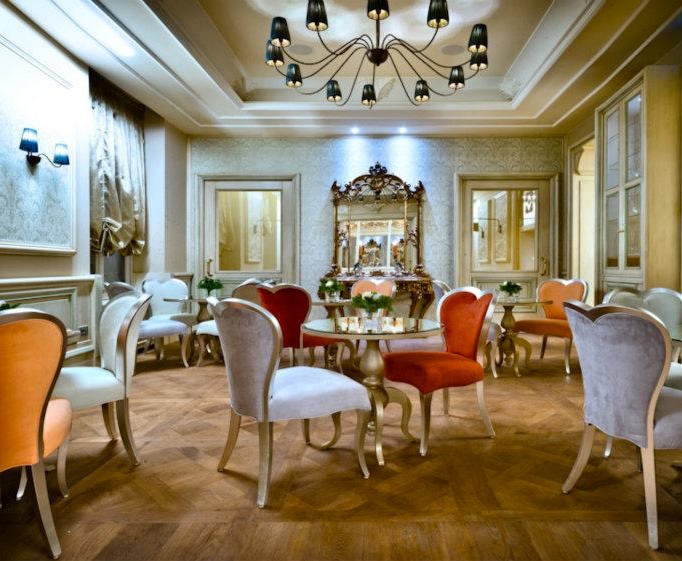 Entirely inspired by the concept of fairy tales, Chateau Monfort inaugurated an original typology: the Urban Château, or rather a context characterized by strong identity, fantasy and imagination.
Who better than two set designers could interpret and express the magical atmosphere of a neo-romantic castle to make guests live like in a fairytale?
Elisabetta Frazuoli and Francesca Fezzi of FZI Interiors along with architect Sofia Vedani immersed themselves in design work that lasted over 3 years: silent, conservative, respectful restoration work so as to allow the original structure to accommodate technology, making it invisible between stuccoes and grit.
The meticulous work carried out on the structure involved Zonca Lighting in the delicate phase of lighting: the designers chose to characterize the light of the entrance using street lamps so as to evoke an atmosphere from the past.
Zonca Lighting fulfilled their request by reproducing the original style of the lamps to illuminate the Art Nouveau entrance and the reception desk. A cascade of expertly reconstructed and various sized lamps, rich in details and gold and silver leaf coatings, were placed in the stairwell.
Every place in the Chateau Monfort has a fantastic connotation; the cups have become lamps in the restaurant and the large chandeliers are reflected in the gold leaf baroque mirrors.
The journey through the theatrical scenes continues in the bright mezzanines with large skylights that offer unexpected open-air paintings amongst tree fronds, floral pinnacles and glimpses of rooftops.
In the suites we find elegant lamps that evoke vintage clothes, such as corsets and crinolines, or cages that illuminate birds as they fly, brick arches and travertine floors that protect the quiet meeting room, slightly lit by torches beautifully revisited in a modern style.
Nothing has been left out in Château Monfort so that one's stay remains a memory like that of a dream after a happy awakening.