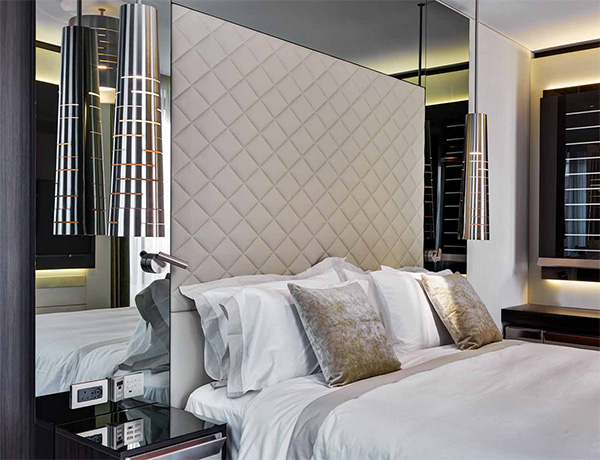 In 2015, the Excelsior Hotel Gallia Milan returned to being a protagonist and an integral part of Piazza Duca D'Aosta following the architectural and interior design project by architect Marco Piva.
Today the hotel, with its nearly 100-year tradition, is considered as one of the most advanced "receptive machines" in the world, designed to offer its guests the most efficient multimedia technologies, the most dynamic and spectacular lighting scenes and the most versatile spaces for conventions, exhibitions, meetings and conferences.
The lighting was one of the most important design tools that contributed to the successful result. Protagonist throughout the entire design, both externally and internally, the lighting project saw the installation of thousands of light sources, many of which were custom made, such as the Meneghina and X lamps by Zonca.
X, for example, is inspired by the lozenges that characterize the intrados of the ancient building's loggias, which were taken as a graphic reference and embedded in various areas throughout the structure, from the staircase to the elevators.
Meneghina, on the other hand, projects a play of light in space through linear cuts, embellishing the 100 meter internal "Promenade" which connects the common spaces of the historical wing to the new building's Grand Hall.
The development of custom lighting products in the Excelsior Hotel Gallia Milan enabled the light to create the environment, giving it a unique image.