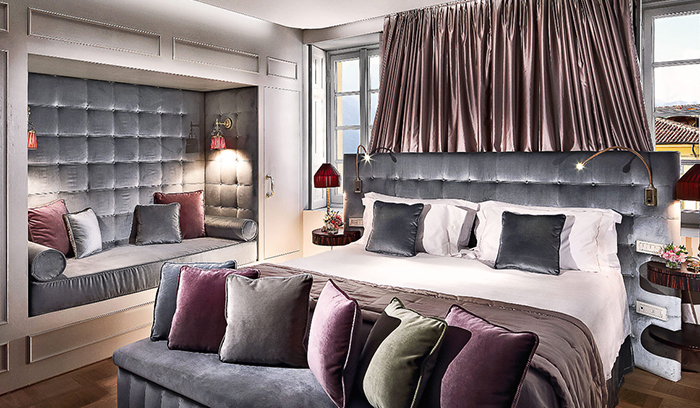 Lake Como has one of the most enchanting panoramas coveted the world over. On these suggestive shores stands the Grand Hotel Tremezzo, one of the most beautiful and oldest luxury hotels in the area; an authentic Art Nouveau building, with antique interiors and attention to every detail. Halls and lounges pursue each other, opening one behind the other, with large windows overlooking the lake. Here, the breathtaking views of Bellagio and Grigne are unique and exclusive.
Like a treasure chest, the Grand Hotel Tremezzo hides precious jewels: refined rooms, panoramic suites and historic suites. Zonca Lighting took care of the details and the lighting of the Emilia Suite, the most recent addition to the Grand Hotel Tremezzo.
Located in the adjacent Villa Emilia, a historic eighteenth century building, it is characterized by delicate colours in shades of green, blue and gray. It is entirely independent from the hotel's main body and offers absolute privacy, for a truly romantic stay.
For the Emilia Suite, Zonca Lighting chose to create a soft light atmosphere that alternates with the iconic creations of the Jacques Garcia collection.
A touch of pure poetry for an unforgettable location that also has private and direct access to the scenic T Spa; a place of well-being and absolute relaxation, where the lighting bears the prestigious signature of Zonca Lighting.