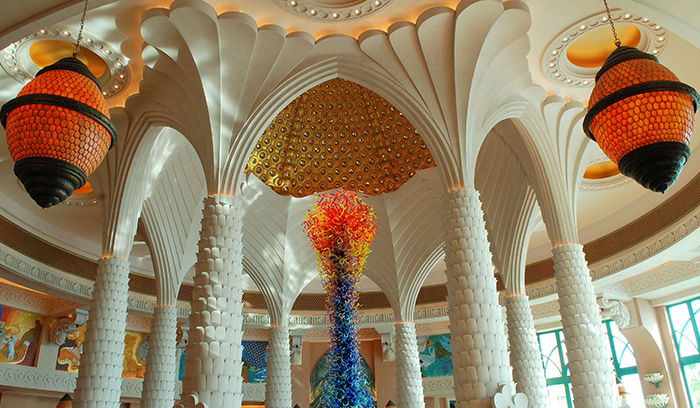 Hotel Atlantis The Palm Dubai is the majestic 5 star Dubai hotel situated on The Palm, a man-made island that has captured the world's imagination with its magnificent scale and ingenuity.
The Atlantis hotel, The Palm in Dubai is one of the most "instagrammed" hotels in the world. The reasons are many: the huge aquatic park covering approximately 17 hectares, the two underwater suites, the fascinating aquarium, the luxurious spa and fitness centre, the non-stop nightlife, the 24-karat gold decorations…
Zonca Lighting was involved in this dream resort's lighting project due to its ability to develop stimuli and to translate them into original ideas. This is how the creative laboratory conceived a very special project, tailor-made in the scenic setting of The Palm: a series of lamps of different shapes, tone and size inspired by the environment and marine flora. Unique pieces that fit together like a jigsaw in an environment designed to amaze in every single detail.