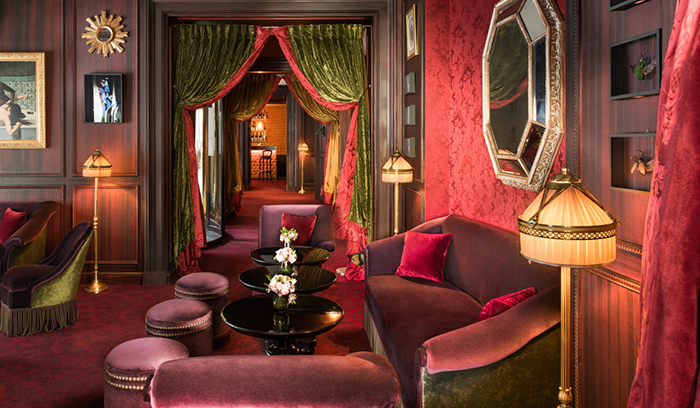 In the 1930s, Hotel Barrière Le Fouquet's, the Champs-Élysées' famous restaurant, was a place frequented by stars such as Josephine Baker and Marlene Dietrich, as well as directors, prominent personalities and well-known artists. Its fame hasn't changed over time and recently, among others, George and Amal Clooney, Meryl Streep and Sofia Coppola have been seen there. In 2006 the owners decided to expand the structure by acquiring the luxurious adjacent buildings and thus giving life to the Hôtel Barrière Le Fouquet's.
Architect Edouard François was in charge of the project, while the Parisian designer Jacques Garcia was entrusted with the task of creating the interiors. Ten years later, both Le Fouquet and the Hôtel Barrière Le Fouquet underwent six months of closure due to restructuring, which involved Jacques Garcia once again. During this second restoration project, the designer was inspired by the rich legacy of the French film industry; he insisted on maintaining the classic charm by enhancing appearances and the settings and by adding some contemporary touches.
Situated in a privileged position – VIII Arrondissemet, in the heart of the 'rive droite' – the Hotel is the luxury location for an authentically Parisian experience. Le Fouquet, an architectural and technological icon, was created to satisfy high-end needs, delighting the international taste of guests who are constantly looking for a truly original experience.
Zonca Lighting elaborated numerous customized solutions for this prestigious project, as well as selecting, supplying and installing lamps and chandeliers from the "Les Grands Classiques de Jacques Garcia" collection; the work of the great Parisian designer, which is produced exclusively by the leading Italian company in luxury contract lighting.