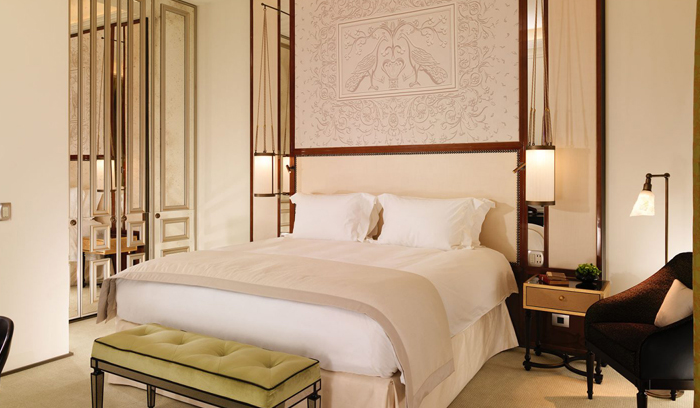 Located in an enviable position, between the Piazza di Spagna, the Villa Borghese and Via Veneto, the Hotel Eden reopened in the spring of 2017 after a year and a half of painstaking internal and external restoration.
Considered to be the best of luxury hospitality in the capital, it dates back to 1889 and, since the moment it opened, was visited by royalty, diplomats and celebrities. The images tell of Princess Maria of Bourbon in a wedding dress whilst on her wedding day she left with Prince Giovanni of Asturias. The golden book also contains the signatures of King Alfonso XIII of Spain, Umberto of Savoy and Princess Galitzine's entire family.
And again: it was here, in full Dolce Vita, that Federico Fellini loved to give international interviews, surrounded by spectacular views over the center of Rome.
For obvious reasons, the setting goes beyond 5-star and the meticulous restyling designed by the French architects, Bruno Moinard & Claire Bétaille of 4BI & Associées agency, focused everything on the Italian-ness of the spaces and colours. The touch by Zonca Lighting , who oversaw the lighting of the suites, is perceived in the atmosphere that recreates an antique aura, interweaving it with contemporary taste.
In the interiors, white marble from Pakistan worked by expert craftsmen and women from Carrara, fabric wallpaper, Murano glass, all in gold, black, grey with touches of red and green, each intervention has been done with exclusive materials. In the lobby, there is space for an entire part of a library with secret bar and an antique fireplace, whilst on the top floor, with an incredible view of Rome, La Terrazza restaurant with creations from the starred chef, Fabio Ciervo.