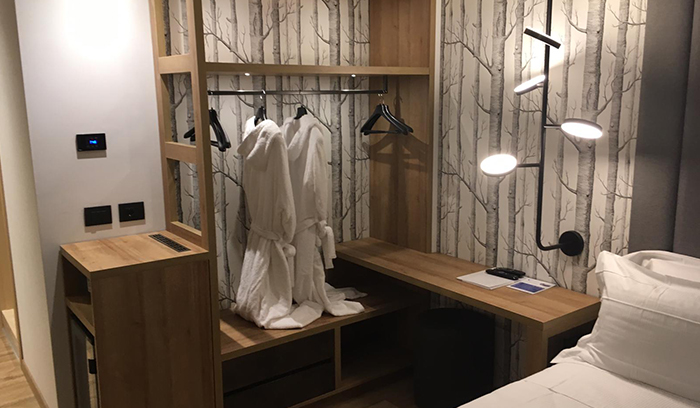 Immersed in the green landscape, just a few steps from the Bagno di Romagna historic centre in the province of Forlì-Cesena, Roseo Euroterme is a dynamic Wellness Resort surrounded by a marvellous park with thermal pools and waterfalls.
The spaces are refined and welcoming, reserved for customers who are looking to find special moments to spend in total relaxation.
The Executive rooms have undergone a careful restyling during 2018 through a project by Caberlon Caroppi, who has chosen Zonca Lighting to embellish the lighting points. In a context where exterior and interior intersect, where the green of the garden finds continuity in the tones of the walls and where the wood continues its profile in the furniture's details, "Tree of life" has found its ideal location.
Tree of life is the appliqué lamp with an essential style created by Zonca Lighting on a design by Caberlon Caroppi: pure and geometric lines that summarize the complexity of nature that changes according to the seasons, while keeping intact charm and beauty.
And at the Roseo Euroterme Wellness Resort the nature enclosed in the "Tree of Life" concept plays a leading role, starting from the water, an essential element that flows from the springs, heating both the indoor and outdoor thermal pools.
Ancient and precious, the thermal water of the Bagni di Romagna was already known in ancient Roman times: now, as then, its numerous properties contribute to giving pleasant sensations of well-being.