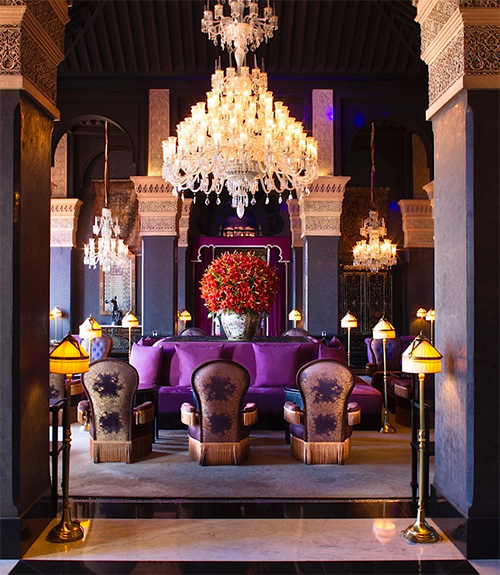 Superb, elegant, harmonious and classy. The Selman Hotel Marrakech is a refined five-star hospitality location, overlooking the Atlas mountains and the intoxicating magic of Marrakech.
Unmistakable, as with all his work, is the touch of the French architect and decorator Jacques Garcia, who conceived an atmosphere far from international standards when working on this hotel. The result is a prestigious hotel that combines artistic vision and the North African Moorish style with the passion for the owners' horses.
Every room, every corner of this incredibly particular luxury hotel depicts references and details of the equestrian world which are placed in the settings as pieces of an elegant mosaic.
Large chandeliers, sinuous chaises longues, purple upholstery and imperial antique gold follow one another in the design and style by Jacques Garcia, who draws heavily on Arab culture and art.
In such a particular context, the French designer chose to include a classic from the Zonca Lighting collections: "Alfred", the floor lamp with gilt bronze finish and ivory lampshade; a floor lamp that illuminates the common areas of this precious boutique hotel with a suffusing light.