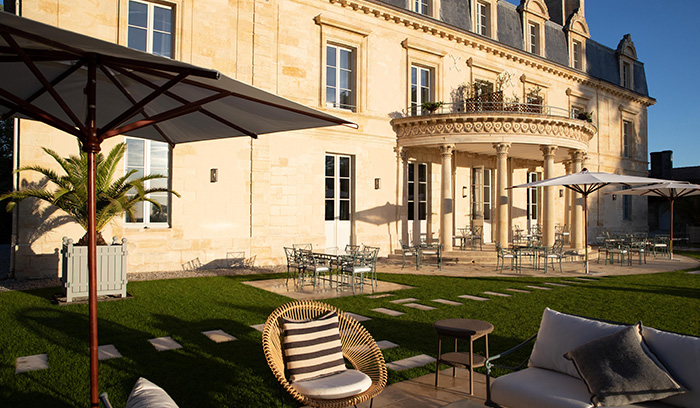 Good news for lovers of a rural atmosphere: in August 2019 the Maison d'Estournel reopened its doors in the wine region Bordeaux after a complete renovation that involved Zonca Lighting for the lighting.
Once the home of Louis Gaspard d'Estournel – known as the Maharajah of Saint-Estèphe for his success as a wine exporter for India – the large stone castle reflects some of the historical features of its ancient owner among which the sandstone pagodas, a door carved with flowers and grapes, and stone elephants that guard the cellars.
The restyling project of the centuries-old building was entrusted to London's architect Alex Michaelis, who has given a particular identity to this elegant private residence, complete with library, vegetable garden, and pantry, which guests can freely access. The Maison d'Estournel was conceived as a country house where you can experience an authentic yet refined stay, in close contact with nature.
The 14 rooms are distributed over two floors and offer a captivating view over the five-acre estate of vineyards. Oak floors, freestanding bathtubs, and burgundy and dark green velvet-covered furniture is enhanced in every detail by the lighting that Zonca Lighting has tailor-made for every environment: from the classic lampshades of the floor lamps to the charming fringes of the ceiling lamps, from the elaborate chandeliers of the common areas to the vintage references of the pendant lamps in the pantry. All the lighting of the Maison d'Estournel is the result of a dedicated and customized project in the lines, tones, and functionality with the aim of representing the nuances of a delicately bucolic world.